Huawei has announced a bunch of official cases and wireless chargers for the new P40 series. The cases come in different colors and are made from different materials and also serve different purposes while the wireless chargers are for the Huawei P40 Pro and the Huawei P40 Pro+.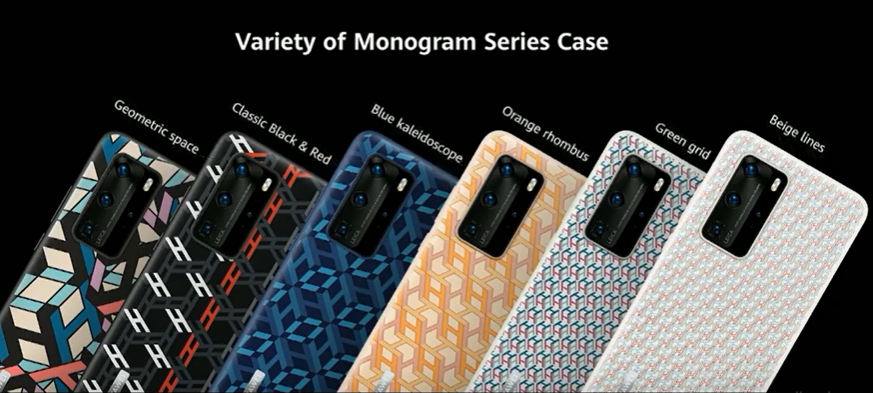 Huawei P40 series Silicone Case and Monogram Case
The silicone case is available for the P40, P40 Pro, and P40 Pro+. The cases provide four corner protection and their insides are lined with microfiber. There are six different colors to choose from including blue, beige, black, and orange.
There are also six different monogram cases available for the P40 series to make your phone stylish.
Huawei P40 Wireless Charging Case
Just like last year's Huawei P30, the Huawei P40 also doesn't support wireless charging but that doesn't mean you can't charge the device wirelessly. Huawei has made a wireless charging case for the non-pro model that allows you to charge it wirelessly.
The case comes in two colors with a dotted pattern on the back. With the case slapped on, the Huawei P40 supports 22.5W wireless Huawei SuperCharge. Huawei says the case has a TÜV Rheinland certification for safety.
Huawei P40 Pro Game Case
Huawei has made a special game case for the Huawei P40 Pro. The case not only provides protection for your phone but also has shoulder buttons on the right for your favorite shooting games.
The Game Case connects via Bluetooth. It has an on-off switch and comes in two colors. Do note that if you have the game case on, you cannot use wireless charging.
Huawei Snorkeling Case
The Huawei Snorkeling Case is available for all models in the P40 series and the Mate 30 Pro (excluding the Vegan Leather Edition). It allows you to shoot pictures underwater (up to 10 feet max. for 1 hour)
The case connects via Bluetooth to your device. It has a power button, a shutter button, and a zoom lever.
Huawei P40 Pro Glamorous Case
This case is included in the P40 Pro Special Edition Gift Box. The case is covered with Swarovski crystals that were individually carved and polished to give it a sophisticated look.
The box itself is handmade from brocade and lined inside with high-grade velvet. There is also a fragrant card included inside the box.
Huawei SuperCharge Wireless Charger Stand
The Huawei P40 and Huawei P40 Pro both support wireless charging, though only the latter supports 40W wireless charging.
The SuperCharge Wireless Charger Stand has a vertical design with a 60° tilt. You can decide to place your phone vertically on it or horizontally thanks to its dual coil design. There is a cooling fan at the bottom with very low noise. The charger is TÜV Rheinland-certified.
Huawei is yet to reveal the prices for these accessories. Once they do, we will update the post.