Xiaomi launched the MIJIA Juicer around July 2019 and the product was well-received with crowdfunding support exceeding 3 million persons in less than one month. The tech giant has now launched a much-improved version dubbed Zhenmi Wireless Vacuum Juicer. The product is a third-party one and is on crowdfunding for 199 yuan ($28). After the crowdfunding exercise, it will be sold at 239 yuan ($33).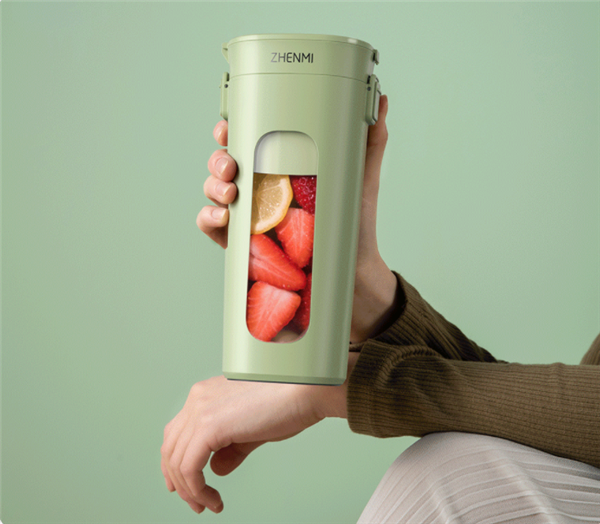 The Zhenmi Wireless Vacuum Portable Juicer uses an innovative oval cup body which not only guarantees visual beauty but also allows users to maintain a comfortable grip. It comes in Cherry Pink and Light Blue colours. For juicing, it features a 4-leaf stainless steel blade, combined with the eccentric spoiler technology which increases the whipped force by 35%. As a result, there is no need to shake the juicer while blending. It is touted as capable of even breaking ice cubes.
The new juicer is designed with a quick juice function which only requires you to double-click to turn on fast juice. In this mode, it only takes 28 seconds to quickly squeeze the juice whereas the traditional juicer takes 40 seconds to squeeze a cup of juice.
It adopts 301 stainless steel blade and an environment-friendly PC + ABS food-grade material. The cup body and whipping head can be washed with water as they are 100% sealed and drip-proof.
As the name implies, the Zhenmi Wireless Vacuum Portable Juicer comes with vacuum function which is deployed to evacuate the device after use. It only takes one button to automatically evacuate in 15 seconds in order to prevent oxidation of the fruit residue. The vacuum can maintain a pressure of -30kPa for 4 hours (recyclable vacuum). This will ensure the interior is fresh even when locked.
The gadget gets its power from an impressive 2400mAh battery which it claims can squeeze 25 cups of fresh juice when fully charged. It uses a simple and efficient adsorption charging method and can be charged by attaching the charging head to the top of the juicer. It also supports charging modes such as power bank, and car charging and will be fully charged in just 2 hours.
The product is expected to start shipping in China on April 19.
(source)